10 Super Impressive & Trending Bathroom Fixtures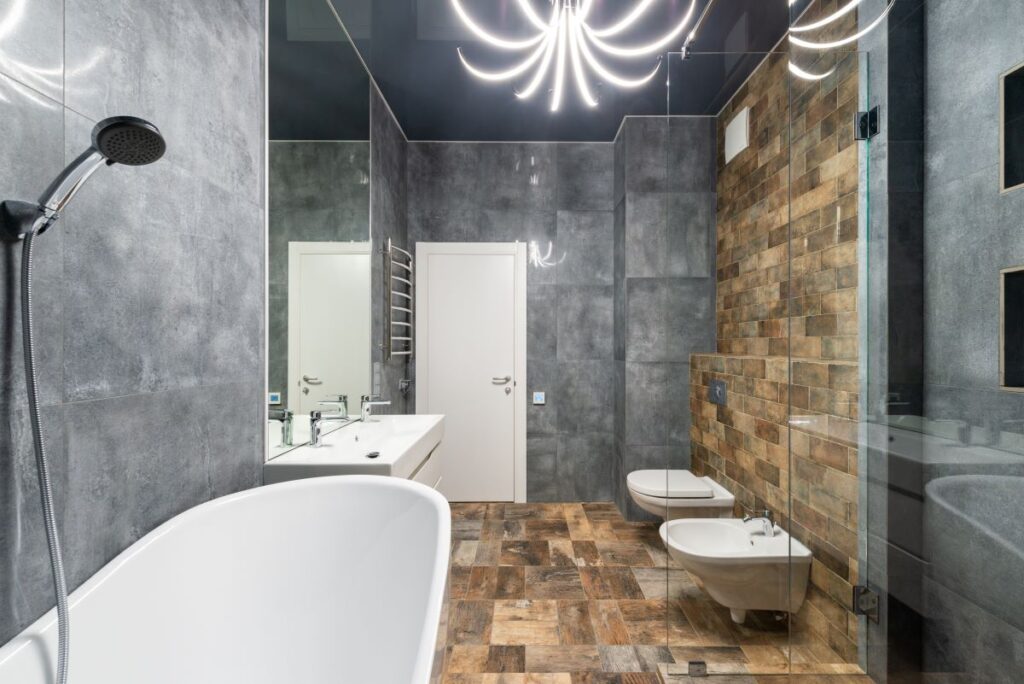 A bathroom can reflect many things about your personality. Well-organized bathrooms look stunning and leave a great impression on your guests.
A Southern California bathroom should have modern fixtures. But, decorating a bathroom is not always easy. There are often many choices to consider for your bathroom, which makes it difficult to choose the best options.
Before decorating your bathroom, you should consider these three important factors.
1) Colors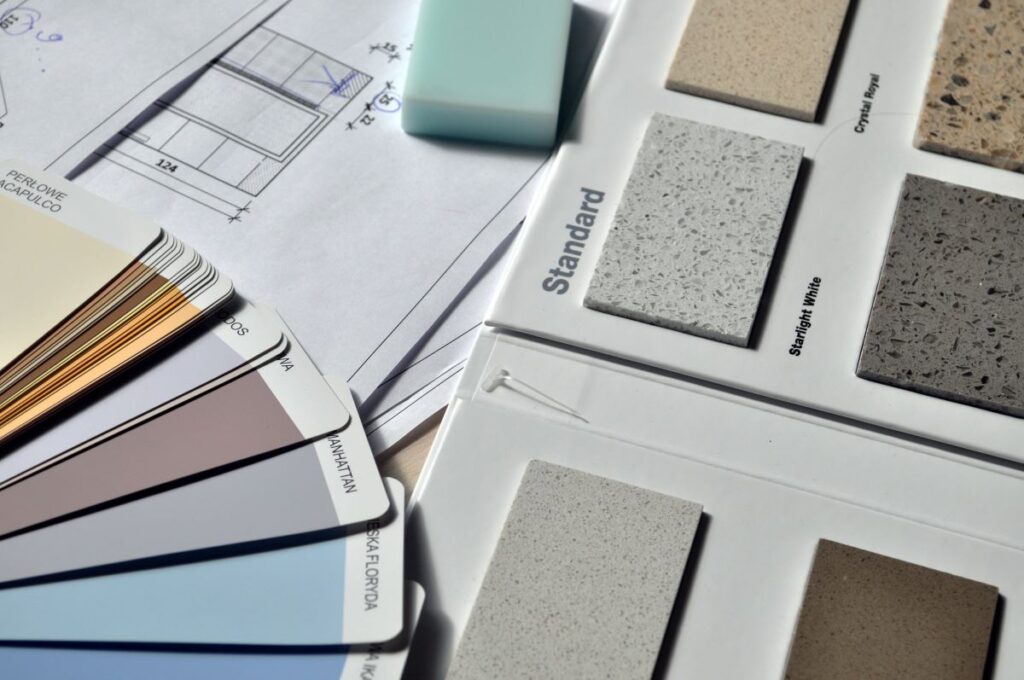 Color is the soul of a bathroom. Hence, make sure you pick colors that make your bathroom stand out and look gorgeous. Bright and glossy colors can make your bathroom truly glamorous. If your bathroom has enough natural light, you can also consider dim, dark, and deep colors.
2) Tiles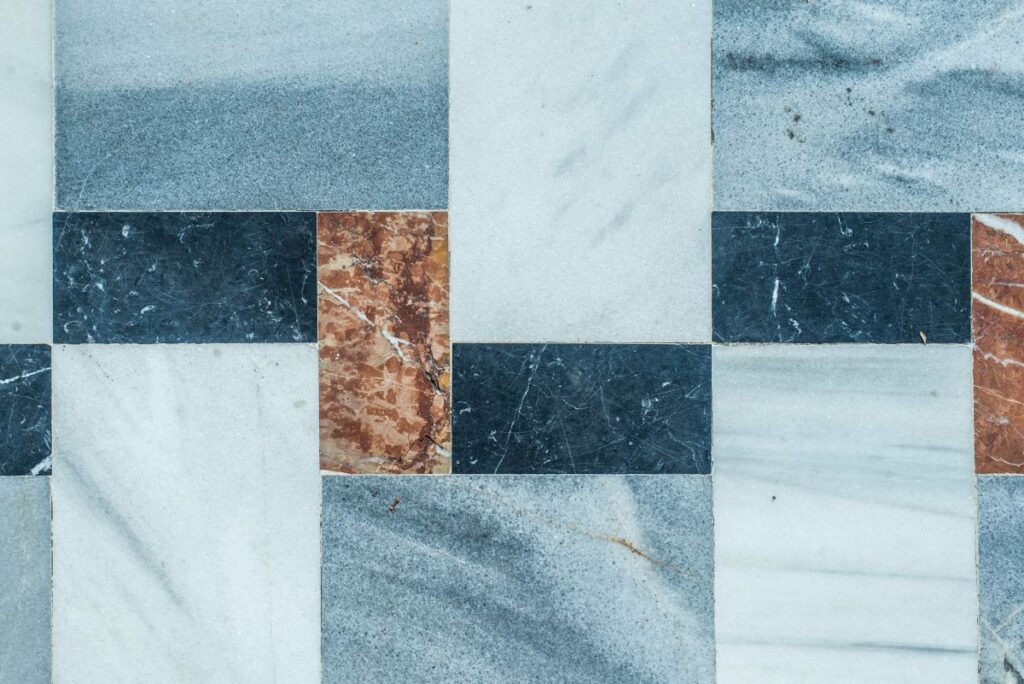 It is common for modern bathrooms to have beautiful tiles. You can tile a bathroom's floor and its walls. There are many options to consider – glossy tiles, neutral tiles and marble tiles, just to name a few. So, consider installing some suitable tiles to make your bathroom look fabulous.
3) Budget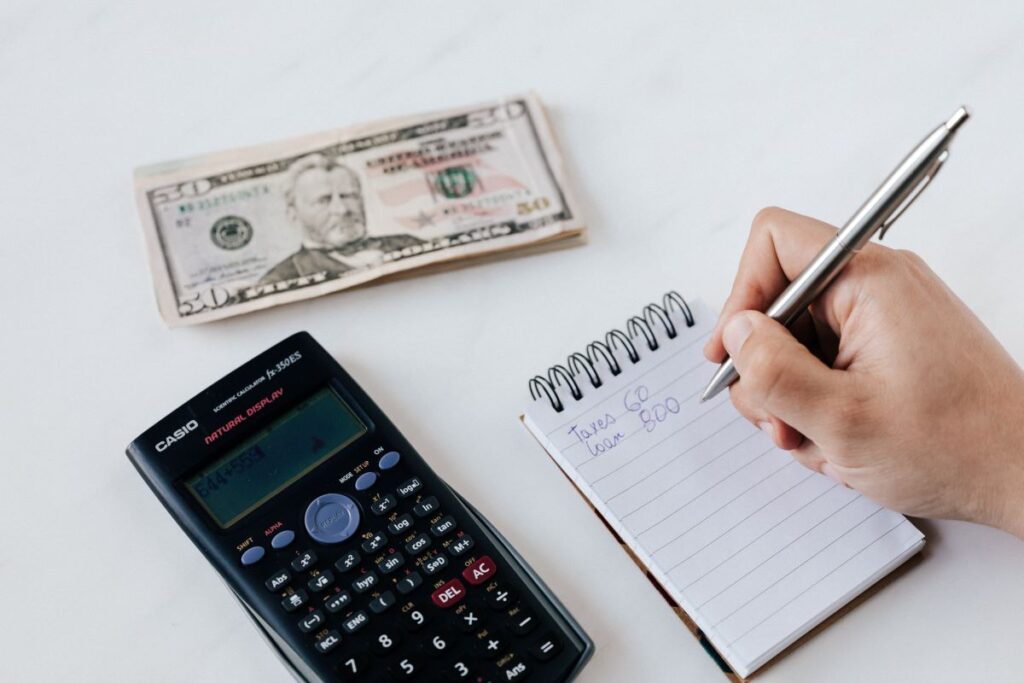 Make sure you consider your budget before renovating your bathroom. A big budget can definitely buy great bathroom essentials. But if your budget is low, then you should spend your money wisely.
You can follow the list below to give your Southern California bathroom a smart and ultra-modern look.
1) Tubs
Modern bathrooms love colorful tubs. Apart from that, big tubs and walk-in tubs are also trending. Moreover, some bathroom tubs don't have traditional shapes. So, choose a bathroom tub that makes your bathroom unique.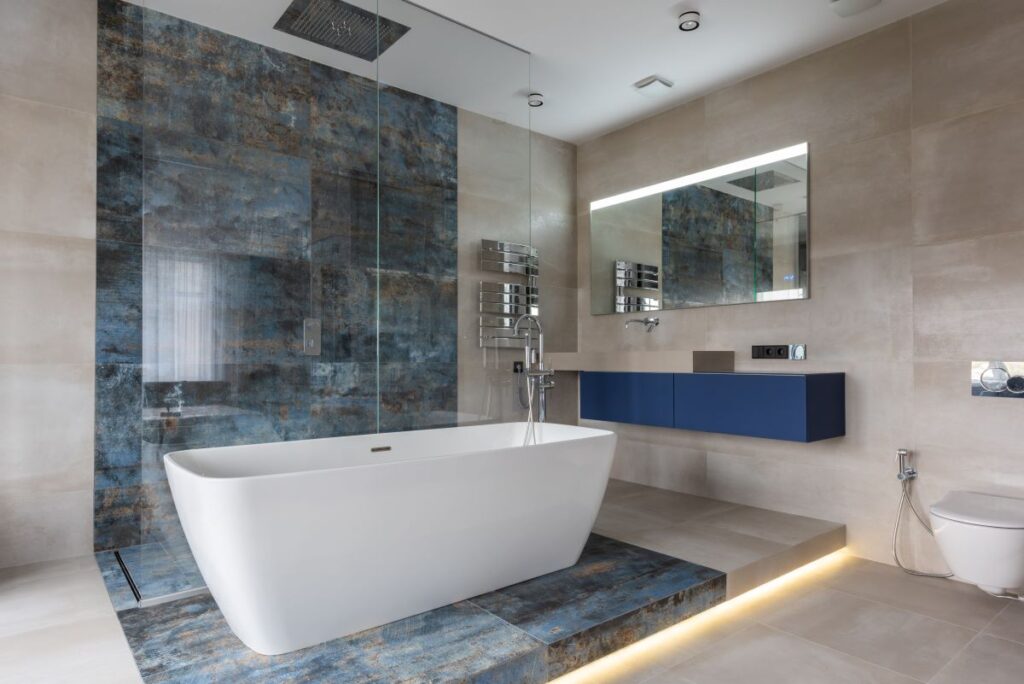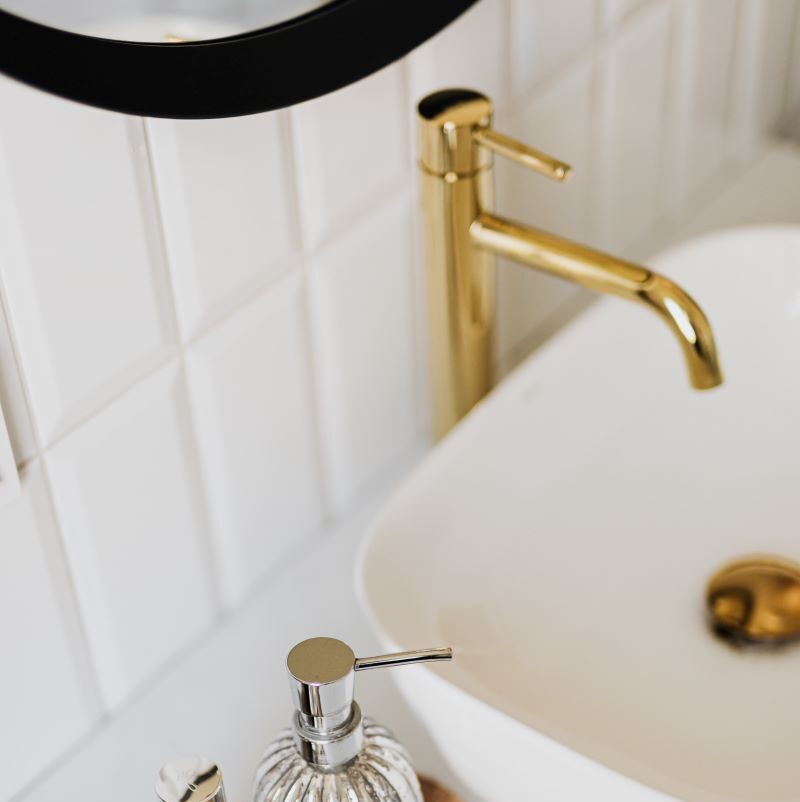 2) Faucets
T-handle faucets, gold-polished faucets, satin nickel polished faucets, satin chrome polished faucets, and other designer faucets can be installed in your bathroom. You can also choose touchless smart faucets to keep your bathroom hygienic and modern..
3) Shelves
If you have extra space in your bathroom, consider installing some shelves. Open-shelves and corner shelves are especially trendy right now. You can use glass, marble, or wooden shelves in your bathroom. Moreover, cute lights can also be installed around your shelves for some extra brightness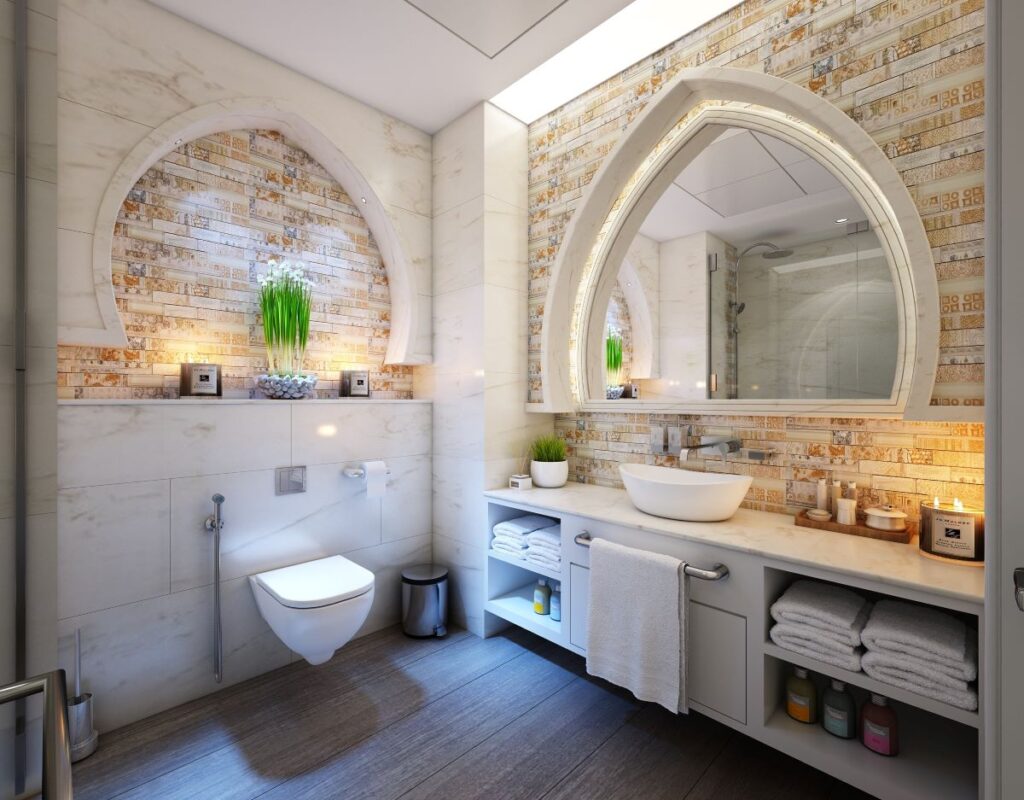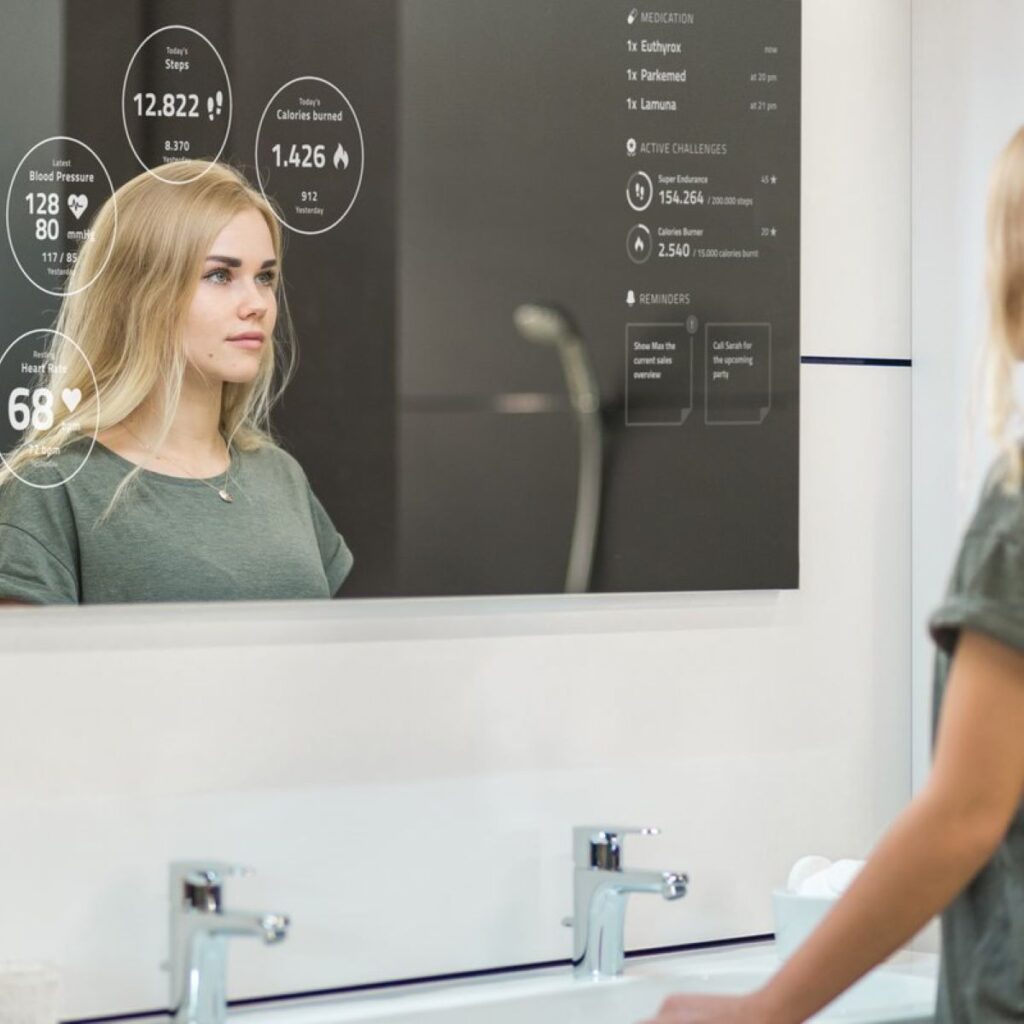 4) Smart Mirrors
A smart mirror can make your bathroom truly modern. These mirrors are anti-fog and waterproof. A smart mirror can give you the latest news and it can be controlled by custom voice commands. This can certainly add some excitement to your daily bathroom routine or shower.
5) Towel Racks
Towel racks can be made of stainless steel, brass, or aluminum. You can also install towel hooks, towel bars, or towel rings in your bathroom. Wall-mounted towel racks are outdated. Hence, it could be a good idea to install a ladder-like towel rack or corner towel racks in your bathroom.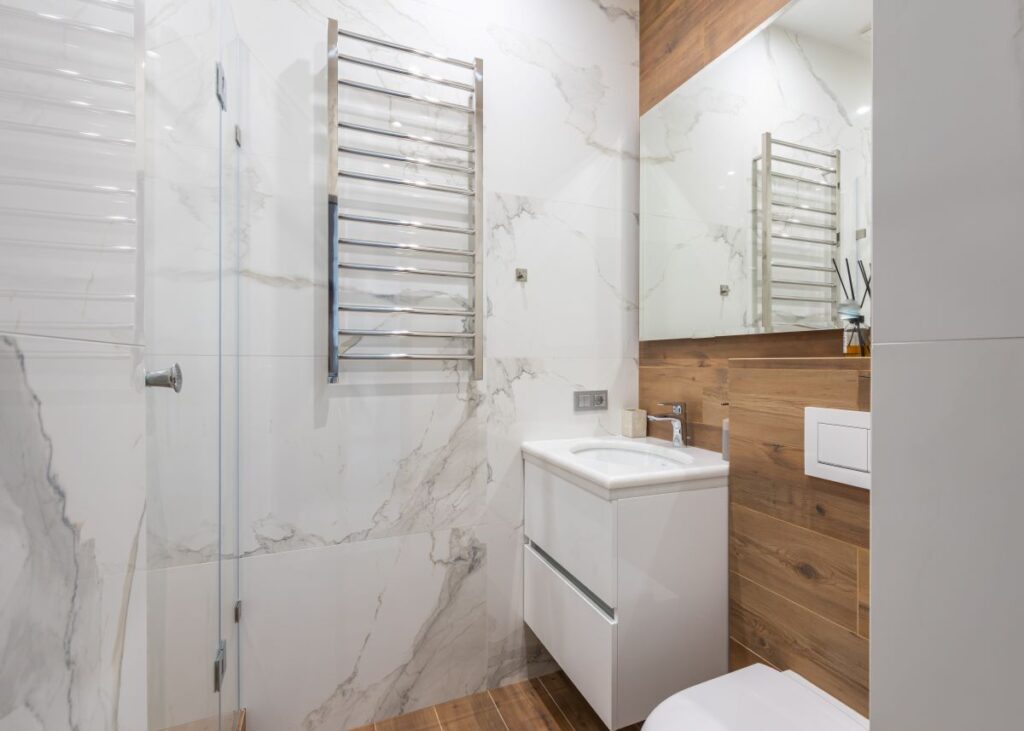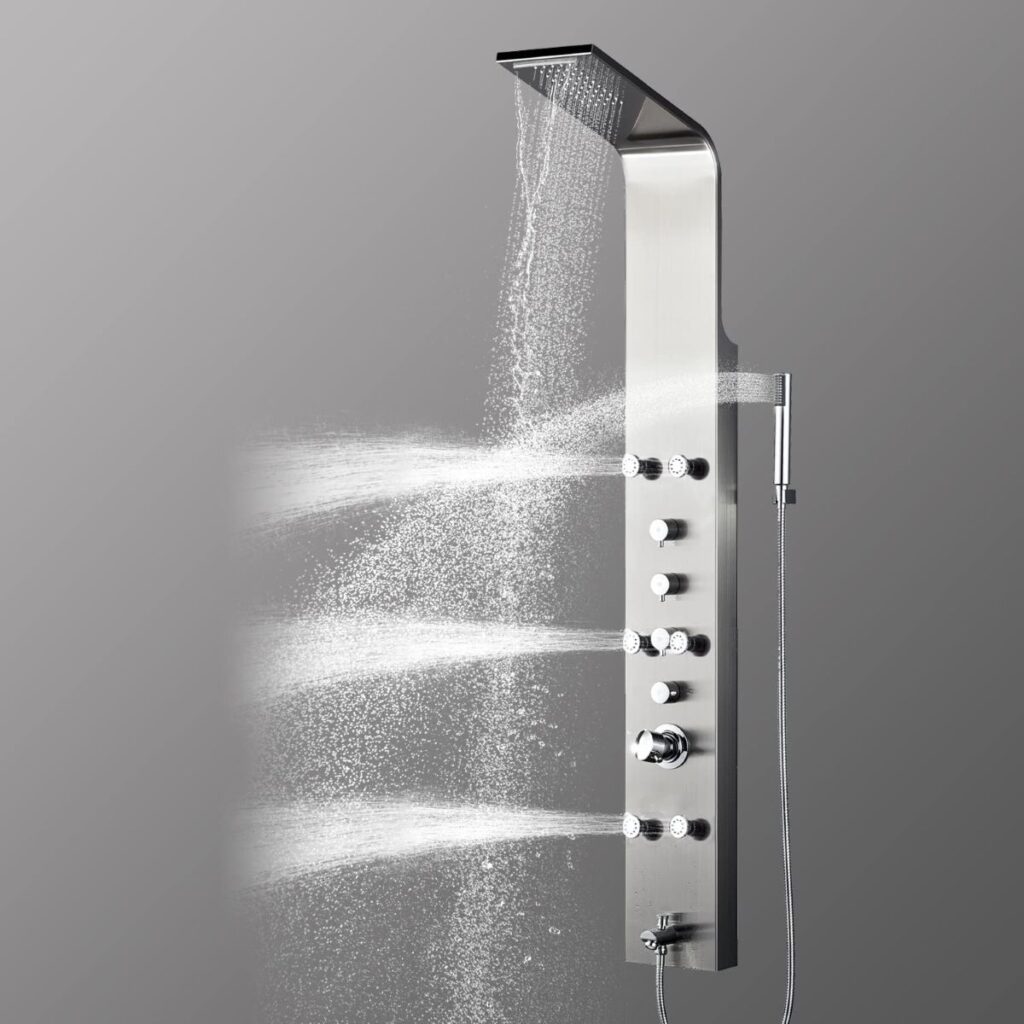 6) Multi-Functional Showers
You may be wondering – what can be new in a shower head? But, our world is changing fast. Various types of bathroom shower heads are available such as fixed showers, rain showers, hand showers, full-body showers, and even more.
7) Sinks
A bathroom without a beautiful sink may look empty so you should definitely install appealing sinks. Currently, marble sinks, quartz sinks, and natural stone sinks are trending. You can also choose attractive granite countertops for a nice look.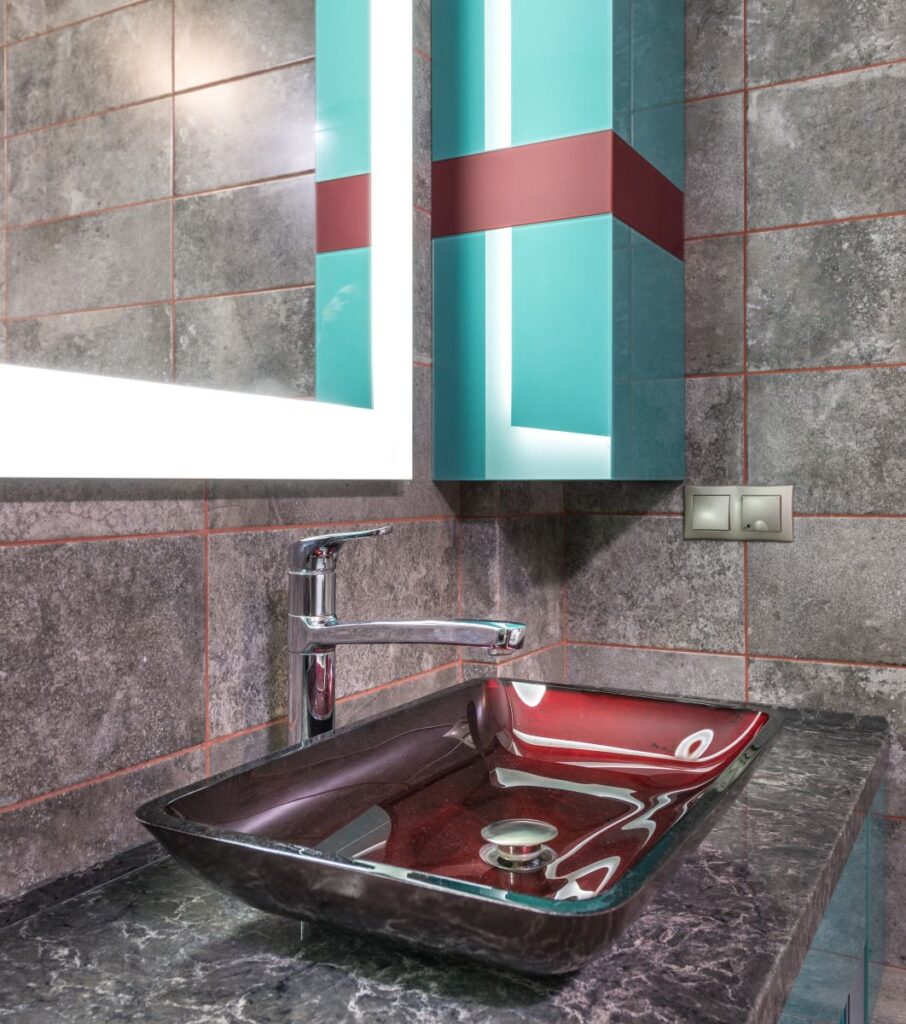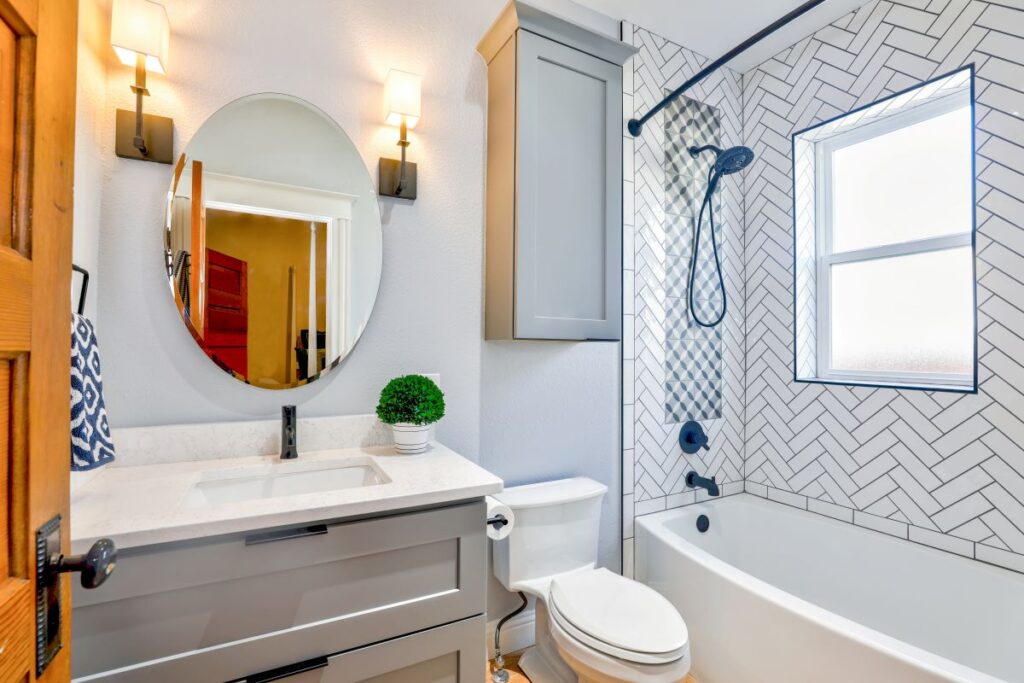 8) Wooden Cabinets
Wooden cabinets will never become old. These cabinets are convenient in storing cleaning materials, extra towels, cleaning brushes, magazines, grooming essentials, and more. Wooden cabinets are must-haves in order to keep your bathroom organized. It is also a good idea to keep your wooden cabinet doors beautiful- possibly with glass doors, which usually look great on wooden cabinets.
9) Beautiful Lights
Chandeliers and sconces are good choices to decorate your bathroom with. But, modern lights such as lanterns, round-shaped lights, square-shaped lights, indirect or backlights can also make your bathroom look alive. You should choose a type of light that matches your bathroom's theme.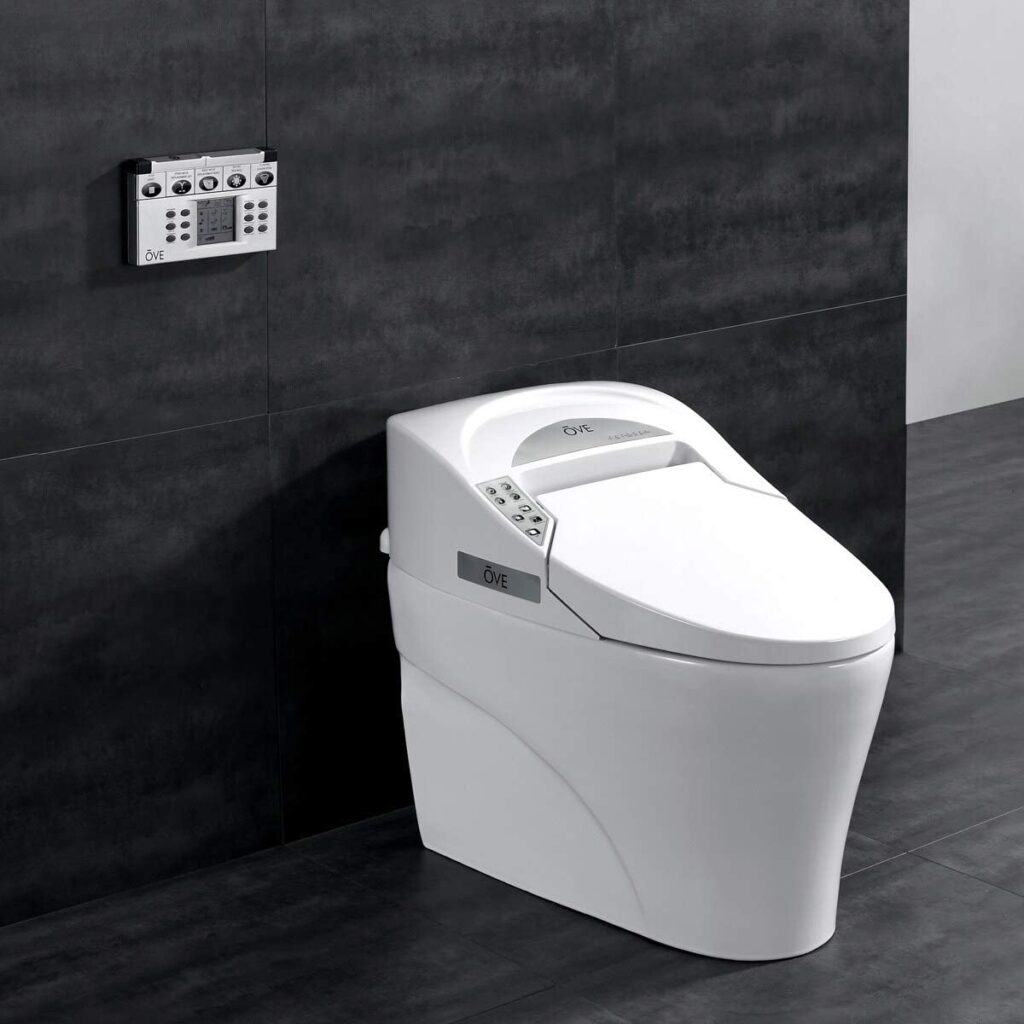 10) Smart Toilets
Smart toilets are convenient because you can operate them without even touching it, which keeps everything hygienic. Apart from that, smart toilets look great and will surely catch your guest's attention.
Another item that can make your Southern California bathroom truly luxurious is if you add music to your bathroom. Just imagine your bathing experience while listening to your favorite music.
---
FINAL WORDS
Modern bathrooms are often designed with a theme in mind. Navy bathrooms, classic bathrooms, Victorian bathrooms, and futuristic bathrooms are a few examples that are trending. If you choose a bathroom theme, it would be easier for you to decorate and design it. So, choose an eye-catching theme and make your bathroom look marvelous.
Would you like to meet our team?
Contact us at info@xoticproperties.com to schedule time.